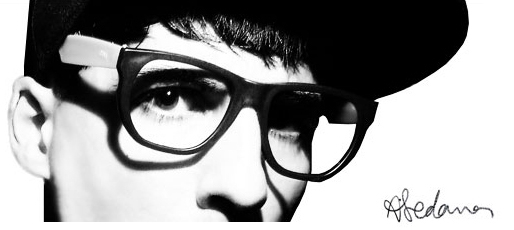 Alex Sedano (born November 13, 1978 in Granada, Spain at 00:15am with a birth mass of 3.8 kg.) is a London-based creative facilitator, graphic designer, video artist and art director.
Sedano studied Graphic and Media Design at the University of the Arts London after being awarded with A distinction in his Art & Design Foundation Studies.
He started to gain the attention of the media and local artists thanks to his iconic graphic work with Nuke Them All! (2007-10), London's famously hedonistic and creatively warped art rave, making big waves around the world with quotes from the New York Times to Time Out London and playing his visuals as a live VJ across Europe.
His recent work, mainly print-based projects, has stretched from catalogues, logos, album covers, posters, flyers and promotional campaigns for nightclubs, fashion designers and music bands to video installations and live visuals seen in many music venues, festivals, fashion shows and art galleries.
Sedano is interested in creating work that answers a clients needs through experimentation and research.
If you are interested in working with him or have a proposal, then please get in contact.
Exhibitions
— 'FMP Show'
London College of Communication, London UK 2006
— 'Inter.IMI Show'
London College of Communication, London UK 2008
— 'Bah Humbug! Exhibition'
Austin Gallery, London UK 2009
— 'The Object-Culture Exhibition'
Red Gallery, London UK 2010
Awards
— 'Distinction Award' In Foundation Studies (Art and Design)
University of the Arts London, UK 2006
Publications
— Notion Magazine (#039) London, UK
Featured on
— Time Out Magazine (London, UK)
— Pravda Magazine (Vilnius, Lithuania)
— Vice Magazine (London, UK)
— Super Super Magazine (London, UK)
— BANG BANG BERLIN Website (Berlin, GER)
— SKIR Website (London, UK)
— KCTV Website (London, UK)
— AMODA Website (Austin, US)
Education
1996-2000
Granada School of Arts, Spain
— A-levels (Fine Arts Pathway)
Fine Arts / Art History
2005-2006
University of the Arts London, UK
— UAL Diploma In Foundation Studies
Art and Design - Distinction Award
2006-2009
University of the Arts London, UK
— BA (Honours) Graphic and Media Design
Typography / Moving Image Pathway
Clientele / Experience
Freelance Art Director / Brand consultant / Graphic Designer
— Trip Family Madrid, SP (2000-2003)
— People On Horses, UK (2007-2008)
— Maaike Mekking, UK (2007-2008)
— Nuke Them All!, UK (2007-2010)
— Sick Of Nature, UK (2008)
— Coolness, UK (2009-2011)
— Say No More, UK (2010)
— Kinetic Kids, UK (2010)
— Korsan, UK (2010)
— Public, UK (2010-2012)
— The Nest, UK (2011-2012)
— Farr Festival, UK (2010-present)
— Noize, Malmö, SW (2010-present)
— Organic Art Movement Records, UK (2011-present)
— Love Brunch, UK (2011-present)
— Fomuse, UK (2011-present)
— Underground Pop Records, UK (2012-present)
— Dukebox, UK (2012-present)
— Boujis, UK (2012-present)
— Tonteria, UK (2012-present)