PUBLIC Verbier
Verbier (Switzerland) 2011-2012
Logo, Identity, Graphic Design and Art Direction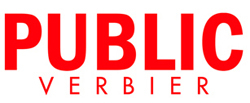 With a capacity of 350 and open 7 nights a week, PUBLIC Verbier brought all the fun and eccentricities of it's London counterpart, including their infamous photo booth and dressing up box, to the Swiss slopes.
The New York style industrial space was as unique and original as Public-London. Opened from 10pm to 4am, with clientele able to pop in for a couple of après ski drinks and a dance or reserve a table and order champagne or cocktails from their unique cocktail menu, including the famed 'mousetrap' sharing shooters.
From the stunning copper bar in the main room to the VIP room adorned with sweet jars, many of the design features of Public-London were transported to Verbier.
Public-Verbier delivered a unique and un-rivaled clubbing experience to the Alps.
Every month, we designed their event's identity and promotional material for print and web.